Cooking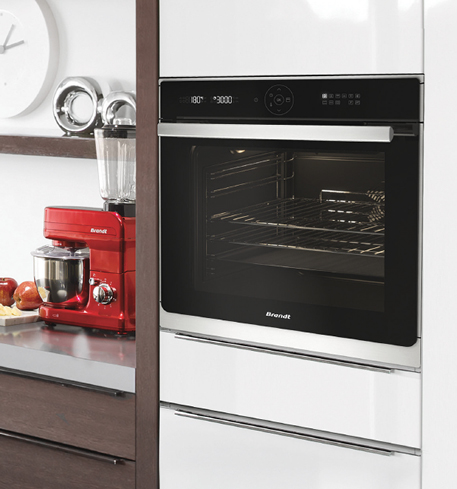 Brandt Ovens and Cookers
"Origine France Garantie" products
Brandt has been awarded the "Origine France Garantie" (Guaranteed French Origin) label by Pro France for the majority of its ovens and cookers. By providing assurances as to the origin of our products, this label offers a mark of quality and reliability for demanding consumers keen to preserve French know-how.
Class A : Reduced energy consumption
All Brandt ovens have a Class A energy efficiency rating. Our ovens' insulation and temperature control systems guarantee real energy savings.
Take note of the new European label, which presents the key characteristics of an appliance in the form of statistics and pictograms, allowing manufacturers like Brandt to highlight their technological advances while also helping consumers to better assess performance levels :
- The "A" energy efficiency rating is based on several criteria : The oven's energy consumption during conventional and fan-assisted cooking, compared to standart energy consumption.
- Energy Consumption expressed in KWh per operating cycle in conventional cooking and fan-assisted cooking mode.
- The usable volume, in litres of the oven cavity.

Design, Functionality and Performance
AN ASSERTED DESIGN
This new collection signed Brandt reveals a beautiful innovation in the design, through the research and the care of details : the noble materials of glass front on stainless steel, elegant lines and a redesigned ergonimic handle..
NEW SIMPLE AND INTUITIVE INTERFACES
Sensitive touch controls with control of cooking modes selected by a subtle white backlight, central knob selector, information feedback of the functions by white LED on one or two displays. The electronic programming of new Brandt ovens are clear, precise and reliable, whatever the chosen model.
Pyrolitic or Catalytic self-cleaning
PYROLYSIS
It is the simplest, most efficient and most economical cleaning mode. The oven cleans itself at high temperature, destroying the soiling from successive cooking operations to make the enamel cavity shine again.
Brandt's Pyro Express function offers ultra-fast and economical pyrolitic cleaning. Using the residual heat from a previous cooking operation, it cleans the cavity in 59 minutes flat, using 50% less energy than other pyrolitic technology.
BRANDT'S CATALYTIC OVENS
The Brandt Catalytic Oven cleans itself continually, it is made up of three walls covered with a special catalytic enamel, which gives it self-degreasing qualities. As soon as any soiling appears, it is spread our oven the microporous contact surface. It is immediately exidised on both surfaces and gradually disappears. If you cook only occasionally and your recipes do not contain much sugar, this cleaning mode is perfect for you.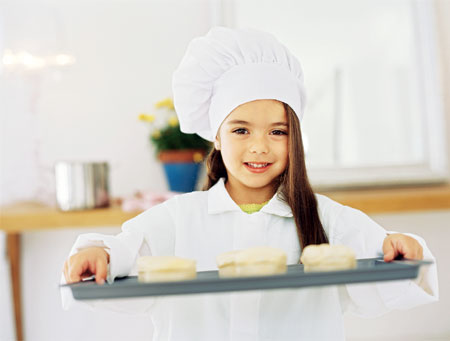 Culinary success guaranteed
The advantages of fan-assisted cooking
The circular element around the fan distributes the heat evenly throughout the oven cavity. This means you can cook different dishes simultaneously on the three shelves, without any mixing of odours, while keeping the texture of each dish.
Assisted cooking : The Perfect Teammate
Brandt's Assisted Cooking ovens make sure every dish you make is a success by recommending the ideal temperature for each cooking mode.
Ingenious accessories
Brandt ovens are fully equipped to meet all your needs, with a sword spit, extra-large drip tray and anti-tip racks all perfectly integrated in the enamel-coated cavity. The cavity is heat-insulated to limit energy losses and the temperature of the outer walls.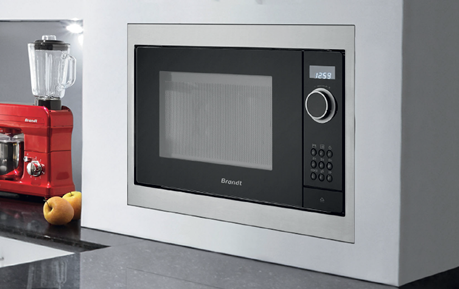 Brandt Microwaves
Find the right model for your home, be it free-standing, built-in or fully built-in
Sleek lines, fully glass front, a long, vertical stainless-steel handle, built into the door for perfect grip; Touch-sensitive buttons, an illuminated Turn & Press selector knob; Soft Touch Controls (mechanical model)... Every single detail of Brandt's free-standing microwaves has been meticulously designed to meet all the aesthetic requirements of the modern kitchen.
Our collection of Built-in Microwaves is designed to match our oven range, with fully glass fronts, horizontally aligned handles* and controls, and high-quality materials. They have numerous qualities, including the ability to slip easily into a standart 38* or 45* cm recess.
*Depending on models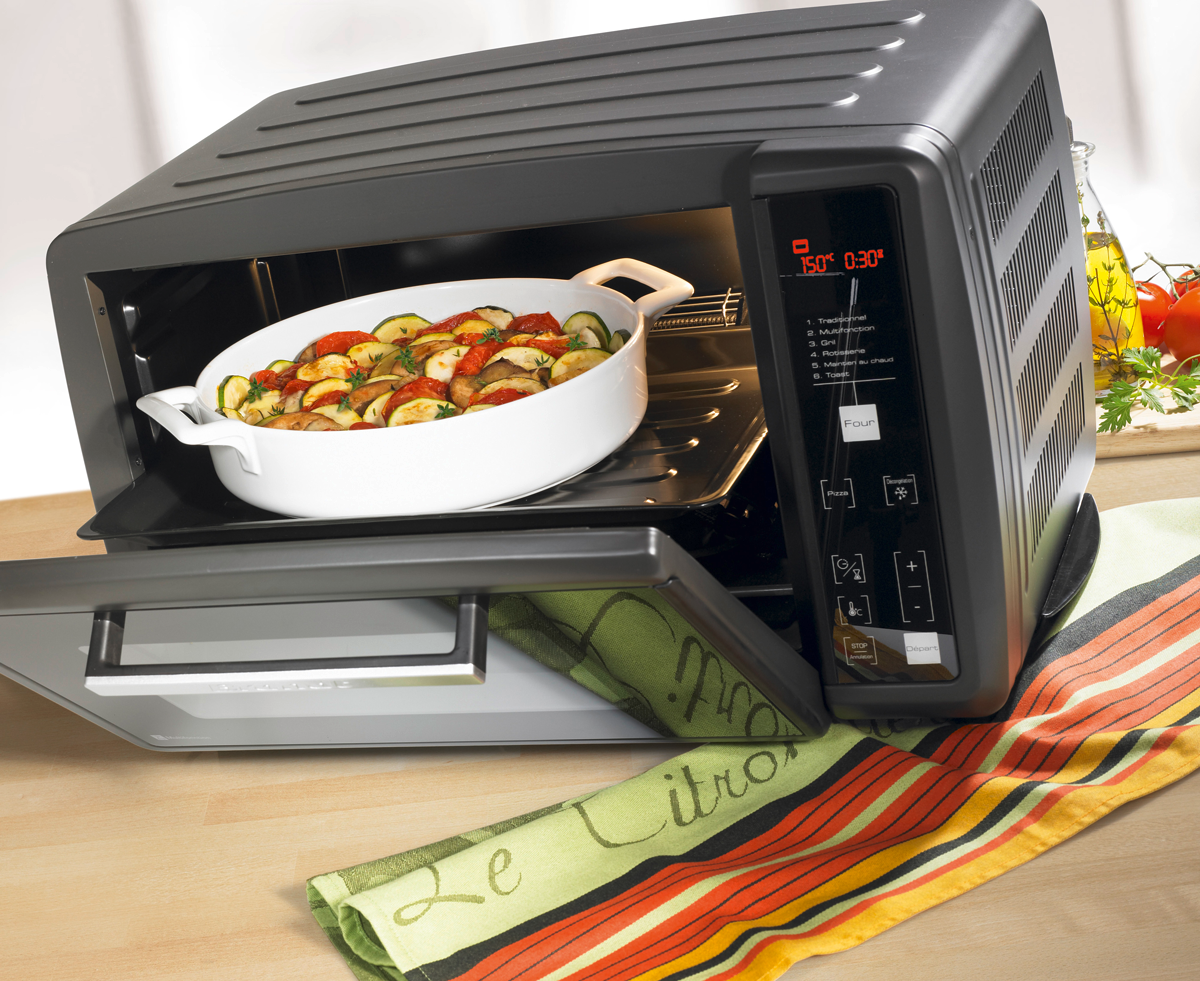 Exemplary Cooking Performance
FAN-ASSISTED
The fan-assisted cooking function of our combination microwaves guarantees results worthy of a professional. When combined with microwave energy, it reduces cooking time by 40% !
QUATTRO-SYSTEM
Available on our 40L an 26L microwaves, this system ensures optimum distribution of the waves inside the cavity through 4 wave outlets and a distributor, ensuring that your dishes are defrosted, cooked or reheated nice and evenly.
AUTOPROGRAM : Perfect results guaranteed !
The Autoprogram function makes cooking simple ! Simply select the type of food you are cooking from the 8 or 12 options and indicate a weight : the appliance will then automatically recommend a suitable mode and cooking time.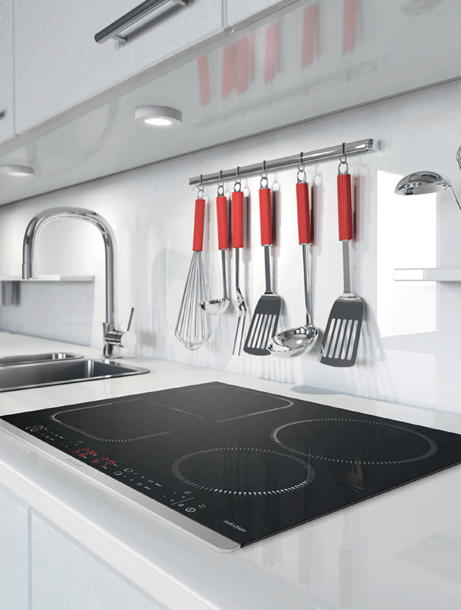 Induction Hobs
INDUCTION : For the best in cooking
Brandt developed and launched induction technology in the late 1980s, revolutionising the hob market to the point that induction now accounts for over 50% of sales by value.
horiZonetech
Welcome to the infinitely more. Ever the pioneer, Brandt has now drawn on its considerable expertise to produce a new generation of induction hobs offering iptimum versatility and user comfort through horiZone Tech technology. This Freezone concept offers one of the largest adjustable burners on the market, so you can give free rein to your culinary imagination.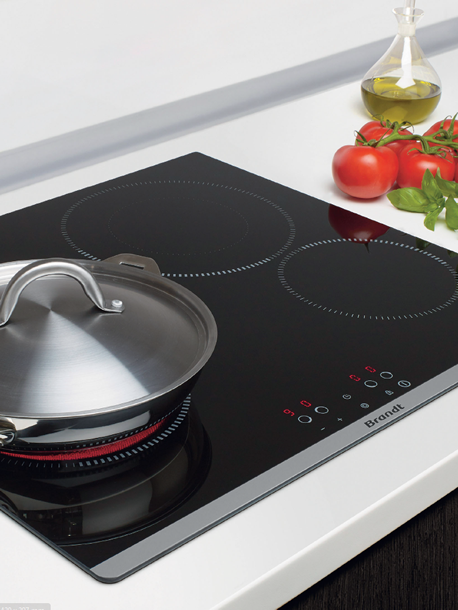 Vitro-Ceramic, Glass or Enamel Hobs
A RANGE TO MEET ALL NEEDS
The pure lines of Brandt hobs make cooking a real pleasure.
Vitro-ceramic hobs offer a glass-ceramic surface made from natural materials; Schott Ceran glass uses no toxic metals or harmful chemicals, for a reduced environmental impact and a cleaner planet.
With their elegant, gleaming enamel of glass surfaces, our gas-and combined gas-electric hobs come with 2, 3 or 4 burners and are available in white, black, stainless steel or golden sand. With so many possibilities, you are sure to find the model for you.
Control the quality of your cooking
Quicklight Radiant burners :
By Brandt ensure perfect heat distribution and are espacially good for long, slow simmering. Equipped with a temperature limiter, these smart burners automatically regulate themselves, turning themselves on and off to maintain the power level selected. This keeps the temperature even and suitable for the food you are cooking. The frequency of these adjustments varies according to the power level selected.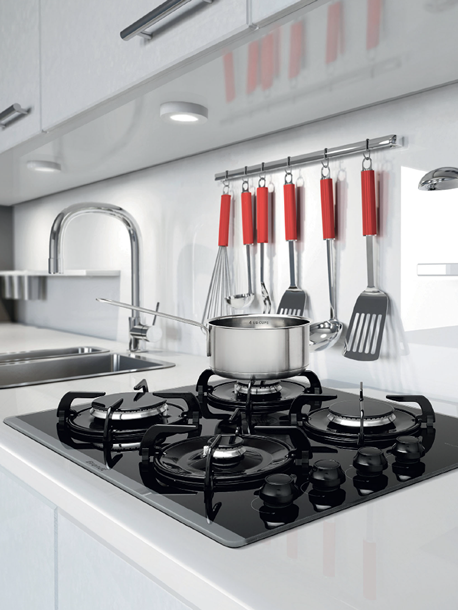 Gas Hob
On all Brandt Gas Hobs, the different sizes of burner each have a different power level to meet all your requirements, from the gentlest simmering on the 850W auxiliary burner to the most intense cooking on the 3100W Super Fast burner.
What could be more pleasant than 'cooking on gaz' with Brandt ?
First of all, it's easy and convenient. The control knobs have a built-in ignition function, so you can turn on the burners with a single twist of your hand.
It's also safe. All Brandt gas hobs have a thermocouple safety system to prevent risks of gas leaks in the event of accidental extinction of the flame.
The burners are controlled by a valve equipped with a safety system which, if the flame is accidentally extinguished, quickly and automatically cuts off the gas supply and prevents the gas from escaping to avoid any danger of a leak.
Burner safety is indicated by a metal rod in the immediate vicinity of the flame.
Should the flame go out unexpectedly, the gaz supply is cut off in under 30 seconds.
Our electric burners are just as safe, thanks to the temperature limiter : safety is indicated by a red spot on the burner which avoid any overheating that might damage the hob.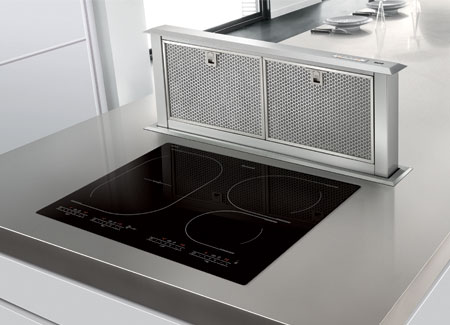 Brandt Extractor Hoods
A Range for all layouts and styles
Satisfy your stylistic tastes, with a decorative wall-mounted hood, a kitchen-island extractor, or a curved or trapezoid model. Our new built-in box extractor can be installed in a kitchen unit, while leaving space for storage. We also offer visor, pull-out, telescopic and filtration-unit hoods that will blend into your decor. In short, the Brandt collection keeps up with current trends with consummate elegance.

The downdraft extractor goes totally unnoticed by slotting away behind the hob, thus freeing up space in your kitchen.
Brandt extractor hoods offer two types of system adapted to your needs and the constraints of your kitchen : Air Extraction or Air Recirculation. They come fully equipped for seamless installation in both modes.
Quiet Efficiency
The new Energy Label provides more information to help you assess the performance of your extractor hood.