Dishwasher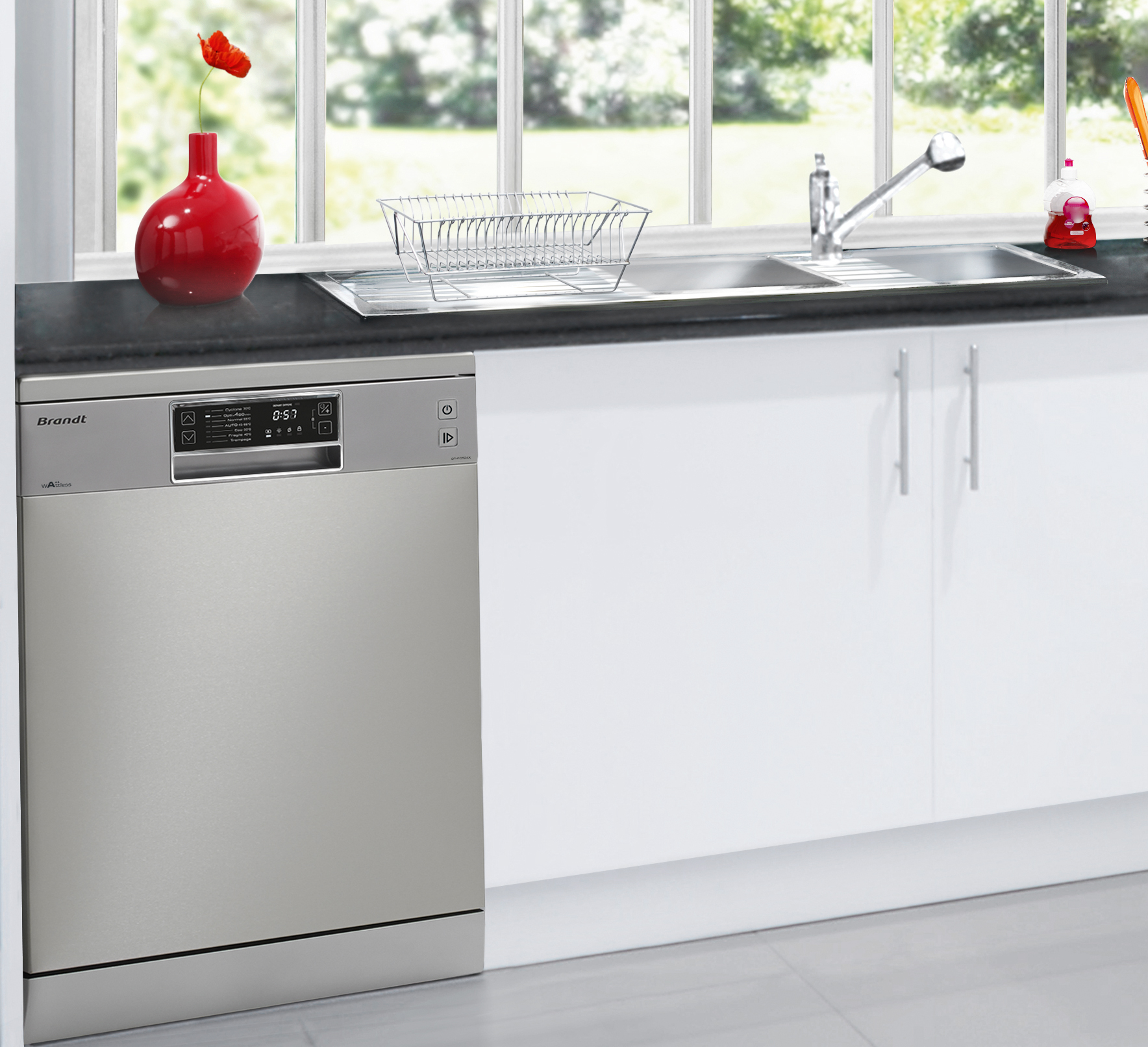 Dishwasher, a range to suit all your needs
Models that measure up to your expectations
Available in free-standing, built-in and fully built-in versions, 45 cm or 60 cm wide, with a capacity of 10 to 15 place settings... These new Brandt dishwashers are designed to meet your needs by combining versatility and performance.
With its reduced dimensions (43,8 x 55 x 50), the compact model will slot easily into small kitchens and provide the perfect fot for the daily dishwashing needs of single people and young couples, with performance levels right up there with those of the bigger models !
ELEGANT, PRECISE AND RELIABLE
With their large, chrome-framed screen and touch-sensitive buttons, our free-standing dishwashers couldn't be easier or more pleasant to program.
The functions offered are clearly indicated (washing programs, temperatures, delayed start, etc.) to maximise speed and efficiency. The digital control screens on the built-in and fully built-in models combine functionality and style.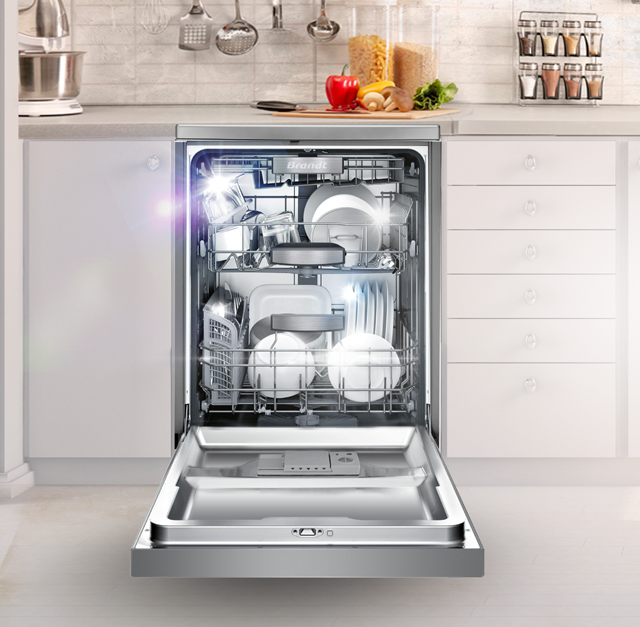 Ergonomics for everyday comfort
VERSATILE LAYOUT
Each rack is designed for maximum versatility, with multiple possible loading combinations : the upper rack offers pulls out smoothly and is height-adjustable for your comfort, while the lower rack is highly practical, with a handy "satellite" section and plenty of space for you to intuitively arrange your daily load.
CUTLERY AREA : an innovative third rack
This space in the upper part of the machine offers easy access to your cutlery while optimising washing performance through the way the cutlery is arranged and the special shower head positioned just above the rack.



FOR LOWER WATER CONSUMPTION
All of our 60 cm dishwashers offer an excellent Energy Labelling rating. A+++ models are 20% more economical than Class A+ appliances.
The fully built-in Water Saver Dishwasher (VH1235J) consumes just 1 540 litres of water per year, making it the most water-efficient on the market. The other 13-place-setting models, meanwhile, consume just 2 800 litres a year, half what the best models used 10 years ago.
Induction Dishwasher : Maximum Performance
Silence Drive System : silence is golden !
The Silence Drive System motor is more robust, more efficient and, above all, quieter (42dB(A)). This technology also considerably reduces energy consumption : 35 W as opposed to 65 W for appliances with a conventional motor.


A range of programs tailored for your needs
Brandt has developed ultra-high performance programs for optimum washing and drying efficiency, while also lessening the environmental impact of its machines by limiting polluant discharge.
CYCLONE : By combining a high-temperature wash (70°C) with a power 80% greater than that of a conventional dishwasher, this exclusive program designed for the dirtiest saucepans or cooking dishes achieves unprecedented results.
OPTIA 60 MINUTES - 60°C : This unique program guarantees optimum washing and drying efficiency for a daily load, in just 1 hour.
NORMAL : Suitable for a narmally dirty load, this mode will rid your dishes of greasy residue through pre-washing at 45°C, washing at 55°C and 2 rinsing cycles (the last at 65°C).
AUTO : Operating at 45-55°C, this mode automatically detects the dirtiness and quantity of your dishes to optimise power and water consumption.
ECO : This program, the most economical in terms of water and power consumption, combines a pre-wash, a 50°C wash and 2 rinsing cycles (the last at 60°C), making it suitable for normally dirty dishes.
FRAGILE : This 40°C washing program is recommended for fragile dishes and glasses.
SAOK : This very short cycle rinses and soaks your dirty dishes so they are ready to be washed the next day.